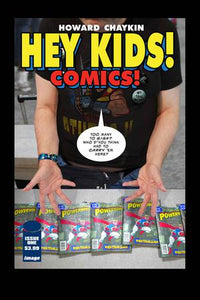 Hey Kids Comics #1
SERIES PREMIERE! HEY KIDS! COMICS! takes its cue from nearly a century of turbulence and triumph, despair and drama in the comic book racket. Artists and writers, con men and clowns, ganefs and gangsters, create the foundations of today's biggest entertainment business-or at least the tail that wags the dog. Some of it really happened, and the names have been changed to protect the innocent and guilty... although in the end, everyone was guilty of something.
(Release Date: 8/8/2018*)
Writer: Howard Victor Chaykin  
Artist: Don Cameron
Please Note:
This is a stock photo. Release date and cover image are subject to change by the publisher at anytime.
ALL NEW RELEASE COMICS and COLLECTABLES ARE GUARANTEED NM 9.4 OR HIGHER, WE DO NOT GUARANTEE 9.8 OR HIGHER.
Please place separate orders on products with different release dates for faster delivery. Additional shipping fees apply for separate orders.